Details
https://www.plein.com/ch/it/no-limits-perfume-90-ml/92954_02_4_0.html
NO LIMITS PERFUME 90 ML
Codice:
000--NOLIMITSEDP90_02
Accettiamo diverse criptovalute
pagamento in criptovaluta
Tasse, dazi e spese di gestione tutti inclusi
Gli articoli hanno i dazi doganali inclusi nel prezzo, quindi non dovrai pagare dazi doganali aggiuntivi per riceverli.
Dettagli del prodotto
90 ML - EAU DE PARFUM

UNA "BLACK CARD" NO LIMIT$ PER CONDIVIDERE LA VITA VIBRANTE ED ECCITANTE DI PHILIPP PLEIN.
NO LIMIT$ è un invito unico per il clan di Philipp Plein di tutto il mondo ad immergersi in un universo di infinite opportunità, potere, denaro, successo, feste e divertimento senza limiti.
Creato su misura dal maestro profumiere Alberto Morillas, NO LIMIT$ cattura la personalità travolgente e l'energia sfrenata di Philipp Plein, il "Re del pre$ente".
Una potente firma olfattiva arricchita da nuovi accordi personali, ingredienti rari e ultra-lussosi.
NO LIMIT$ è la chiave universale per soddisfare i vostri desideri più selvaggi.
Accesso autorizzato: benvenuti nel club!

Il tatuaggio olfattivo di Philipp Plein: un tonificante ritmo orientale e legnoso, ritmato da quattro accordi su misura.

ENERGIA SMISURATA
Note acquatiche ultra-luminose - Bergamotto - Zenzero
DENARO $$$$
Pepe nero - Cardamomo - Cannella - Chiodo di garofano - Anice stellato
SESSO E SEDUZIONE
Cioccolato fondente - Vaniglia nera Bourbon - Incenso - Accordo di ambra nera
MUSCOLI & POTENZA
Legni laser high-tech - Cedro - Patchouli - Oud-cuoio
Consegna & resi
Vi forniremo con il numero di tracciamento del pacco non appena verrà spedito, quindi potrai seguire la consegna sul sito di UPS. Visita la sezione Servizio Clienti per ulteriori dettagli.
Si prega di notare che il cliente è responsabile delle spese di spedizione in caso di restituzione degli articoli della collezione di mobili.
Autenticità
La qualità delle materie prime e l'artigianalità delle loro lavorazioni, costituiscono la garanzia dell'autenticità di tutti i prodotti a marchio Philipp Plein, che trovate in vendita on line sul sito ufficiale.
Additional Information
Visto di recente
Unisex

Whishlist

€ 106

Hai la possibilità di pagare in 15 criptovalute. Il prezzo finale aggiornato al tasso di cambio corrente apparirà a fine processo di checkout.

Crypto

Shop Now

Panoramica veloce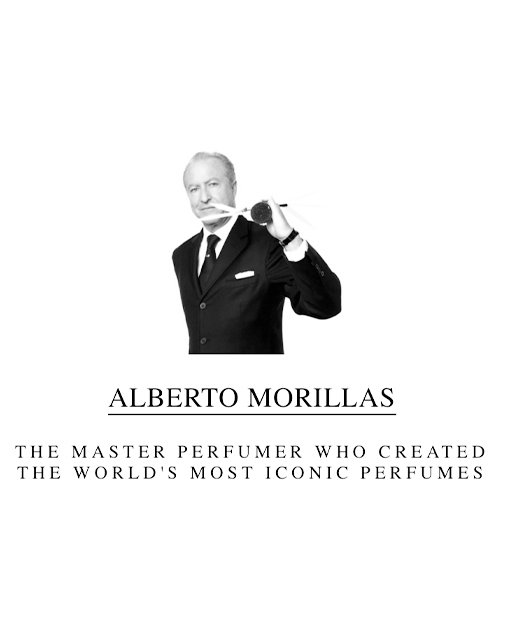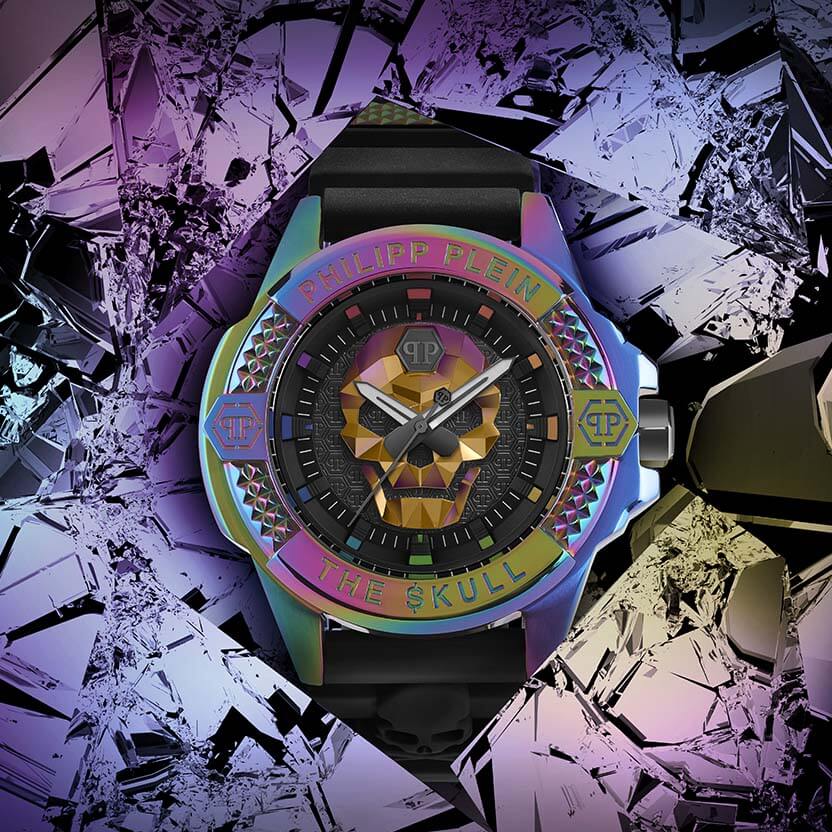 A rainbow shade embraces the $kull with the result of enhancing its electric and endearing personality. The ultimate celebration of the Maison's symbols and DNA is expressed by the unmistakable use of the $kull on the dial and strap. Philipp Plein dedicates its latest rainbow capsule to those who are not afraid of breaking the rules.
for those
who are
not afraid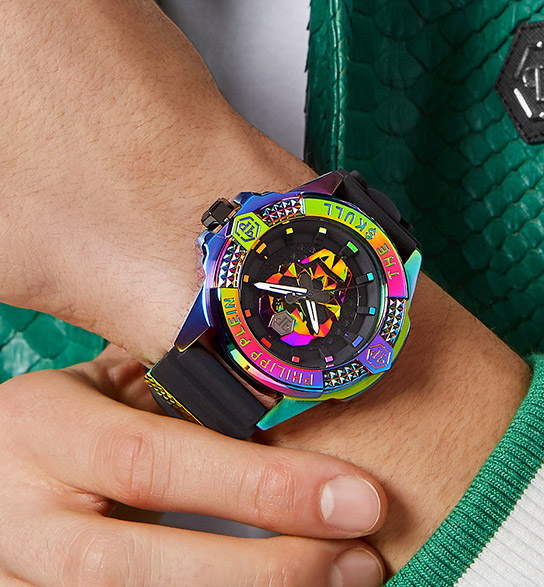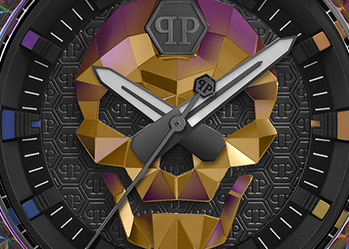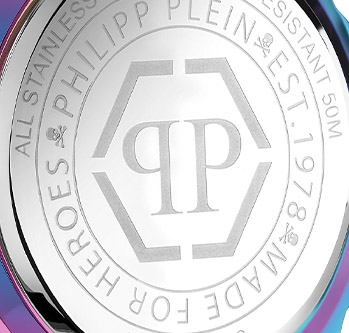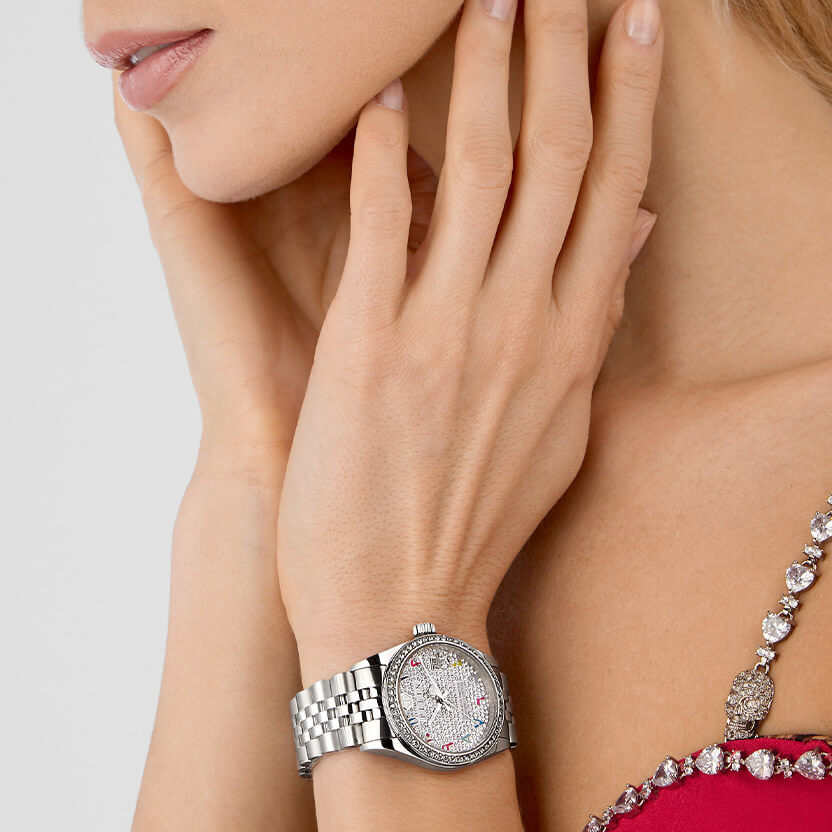 A superlative timepiece for superlative women. A dazzling display of luxury is offered by the DATE SUPERLATIVE, the ultimate PHILIPP PLEIN Timepieces creation. This timepiece is presented in two versions. The first execution presents for the first time in PHILIPP PLEIN collection the mother-of-pearl dial. Even more luxurious, the second version of the Date Superlative is characterised by the presence of Arabic number in the index and by a shower of shiny stones all over the dial that unleash unbridled prestige.