Details
https://www.plein.com/es/date-superlative-watch/118377_70_4_0.html
DATE SUPERLATIVE WATCH
Código:
PACA-WWS0051-PXV037N_70
ACEPTAMOS 24 CRIPTOMONEDAS

Impuestos, tasas y gastos de tramitación incluidos
Los impuestos de importación ya están incluidos en el precio del artículo, por lo que no tendrá que pagar ningún gasto adicional para recibirlo.
Detalles del producto
Un reloj superlativo para mujeres superlativas.

El Superlative Date, la última creación de PHILIPP PLEIN Timepieces, ofrece una deslumbrante exhibición de lujo.

La Superlative Date se presenta en dos versiones. La primera ejecución presenta por primera vez en la colección de PHILIPP PLEIN la esfera de nácar. Elegante y refinada, la presencia de cristales blancos en la esfera y en el anillo superior dotan a esta colección de fuerza y belleza.

Aún más lujosa, la segunda versión del Superlative Date se caracteriza por la presencia del número arábigo en el índice y por una lluvia de piedras brillantes por toda la esfera que desencadenan un prestigio desenfrenado. Siempre únicos, los relojes PHILIPP PLEIN están diseñados para dejarte sin aliento.

Descripción técnica


Tamaño de la caja:
34 mm
Color de la caja:
Stainless Steel
Material de la Caja:
Stainless Steel
Tipo de correa:
Stainless Steel
Color de correa:>
Stainless Steel
Resistencia al agua (ATM):
5 ATM
Composición
Stainless Steel,Stainless Steelmineral crystal, brass
Entrega y Devoluciones
Te proporcionaremos el Número de Rastreo del paquete tan pronto como se envíe, para que puedas seguirlo hasta la entrega en el sitio de UPS. Visita la sección de Atención al Cliente para mayores detalles.
Por favor, tenga en cuenta que el cliente se hace cargo de los gastos de envío en caso de devolución de los artículos de la colección de muebles
Autenticidad
La alta calidad de las materias primas y la artesanía en su tratamiento son la máxima garantía de la autenticidad de todos los productos Philipp Plein a la venta en la tienda oficial en línea.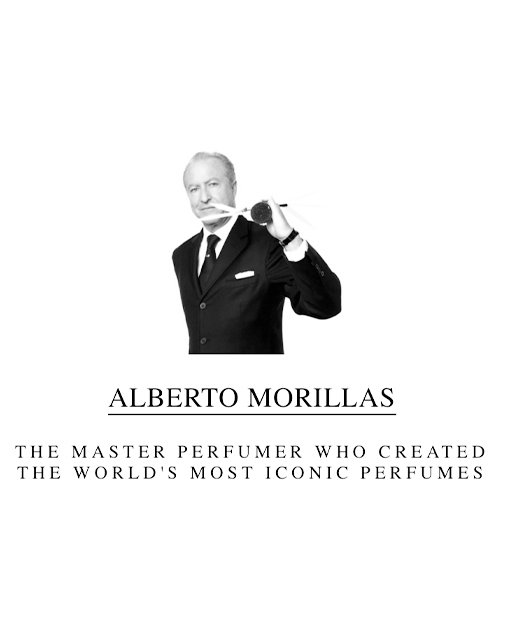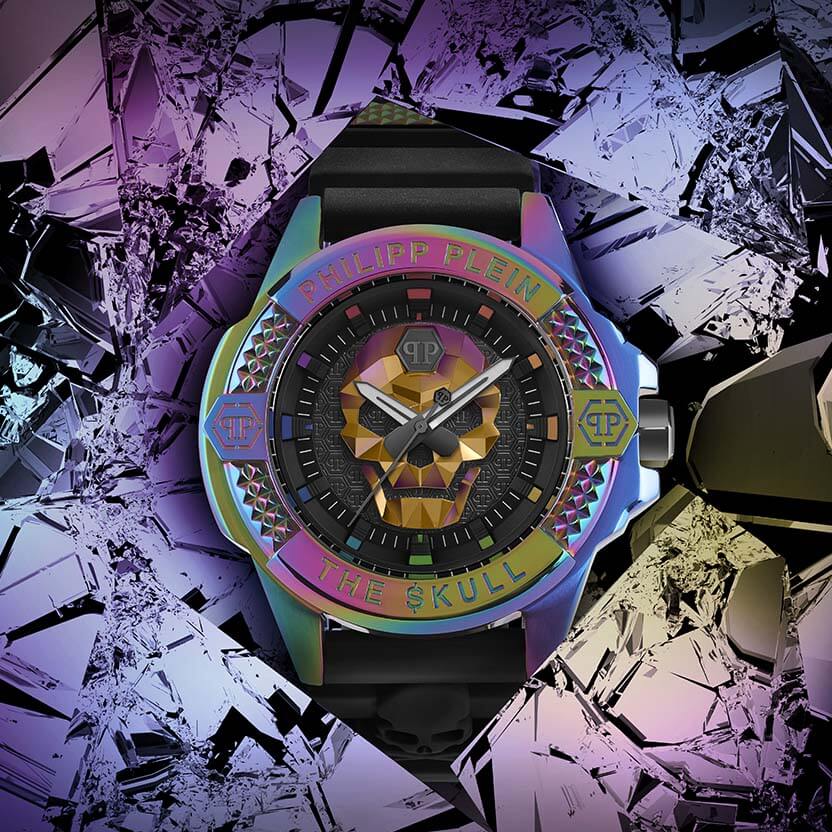 A rainbow shade embraces the $kull with the result of enhancing its electric and endearing personality. The ultimate celebration of the Maison's symbols and DNA is expressed by the unmistakable use of the $kull on the dial and strap. Philipp Plein dedicates its latest rainbow capsule to those who are not afraid of breaking the rules.
for those
who are
not afraid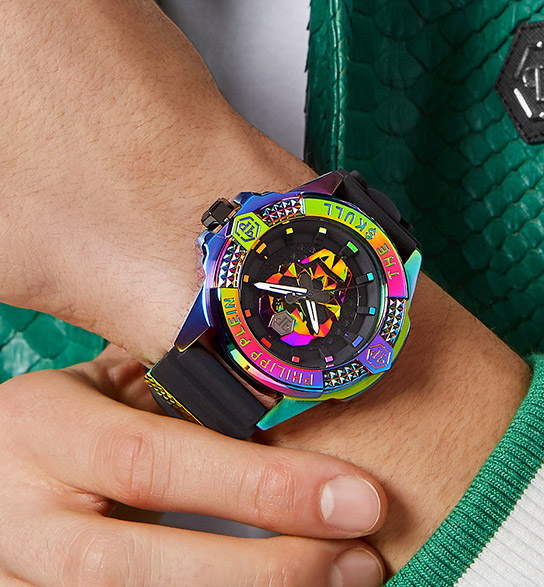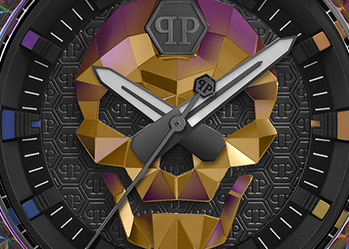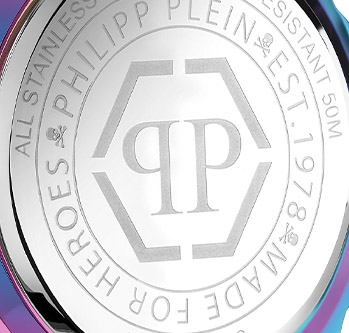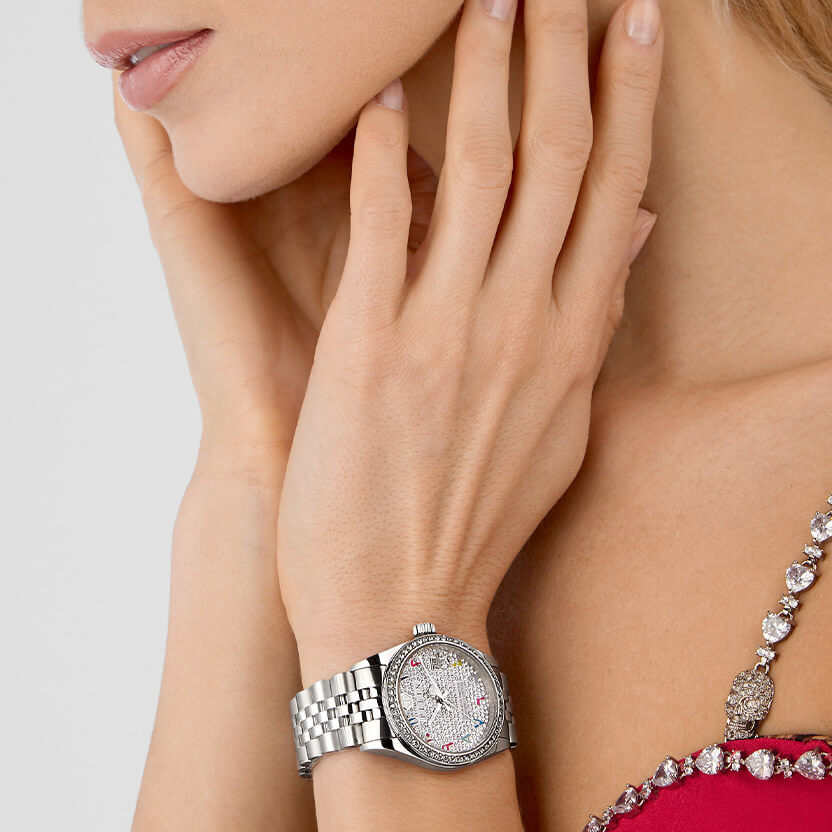 A superlative timepiece for superlative women. A dazzling display of luxury is offered by the DATE SUPERLATIVE, the ultimate PHILIPP PLEIN Timepieces creation. This timepiece is presented in two versions. The first execution presents for the first time in PHILIPP PLEIN collection the mother-of-pearl dial. Even more luxurious, the second version of the Date Superlative is characterised by the presence of Arabic number in the index and by a shower of shiny stones all over the dial that unleash unbridled prestige.